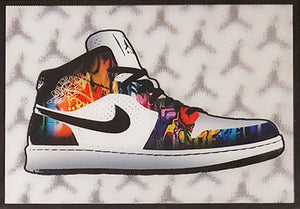 Lucille Khornak Gallery
Graffiti Sneaker - Air Jordan - 24"x36"
Air Jordan Graffiti Sneaker 3D
The Graffiti Sneaker by Klau is undeniably the hottest footwear in these streets. Signature by design, this piece of art features a unique optical illusion that makes the viewing experience all the more special. Key people to get this as a gift for include: Sneakerheadz, fans of Sneaker Con, your favorite streetwear aficionado or basketball player/fan!
2016
Mixed Media
Limited Edition; Signed, numbered and dated by the artist
Sold unframed
© Klau.
---
More from this collection